First and foremost, a plant-based poop bag needs to get the job done. Enter Pogi's!
Details
Pogi's Compostable Poop Bags contain zero plastic, are extra-large, sturdy, and leak-proof so you never have to worry about clean-up getting messy, even with larger breeds.  They're plant-based and dog-friendly—the best of both worlds.
 Certified Compostable worldwide.

 DIN CERTCO Home Compost NF T 51-800
 BPI Commercial & Backyard Composting
 ASTM D6400, ASTM 6868
 EU Compostable Standard EN 13432
 AUS Standard Home Compost AS 5810—2010.
Pogi's Poop Bags are biodegradable, contain zero plastic, and are 100% home compostable.
Full description
Regular price
Sale price
$11.99
Unit price
per
Sale
Sold out
View full details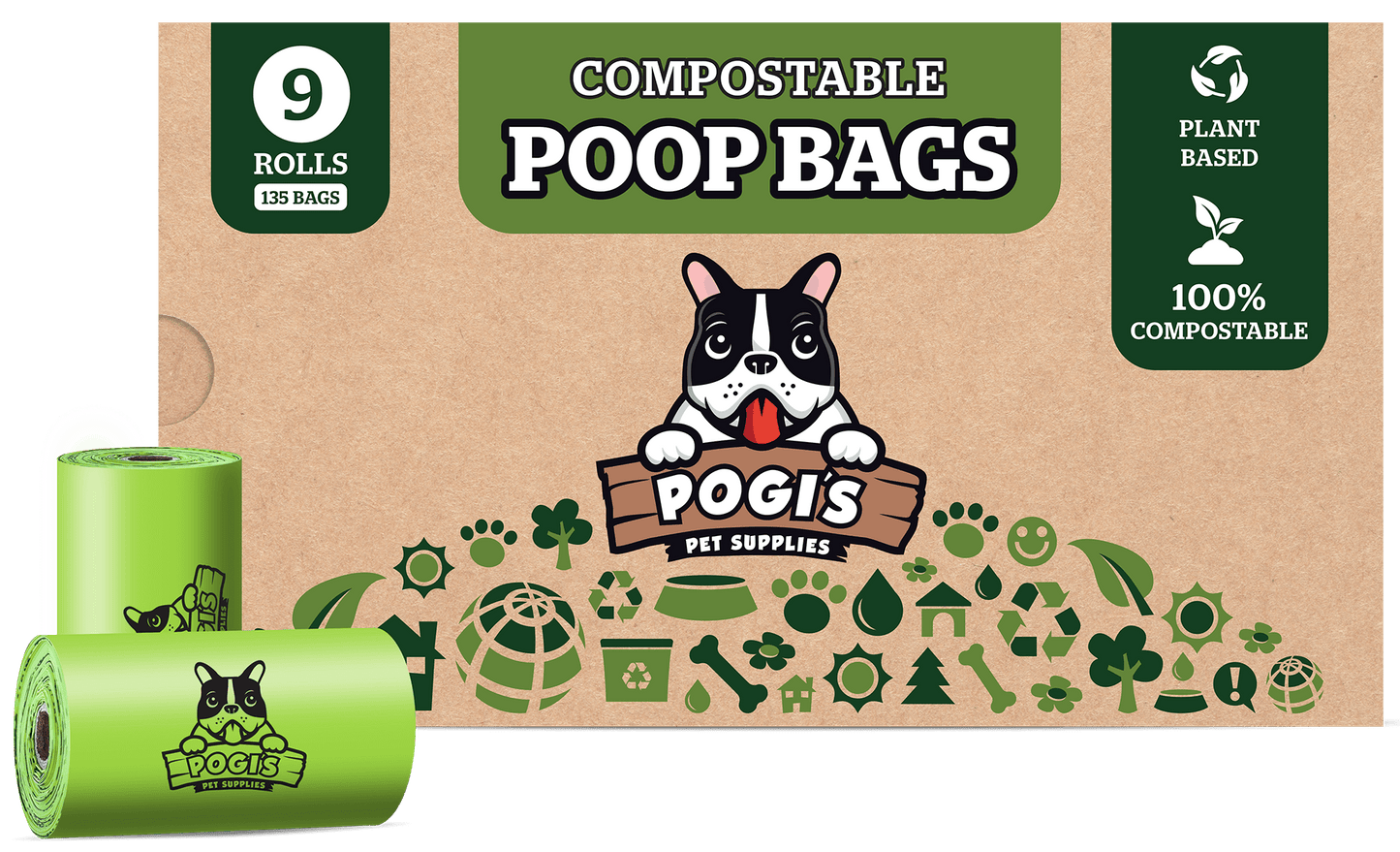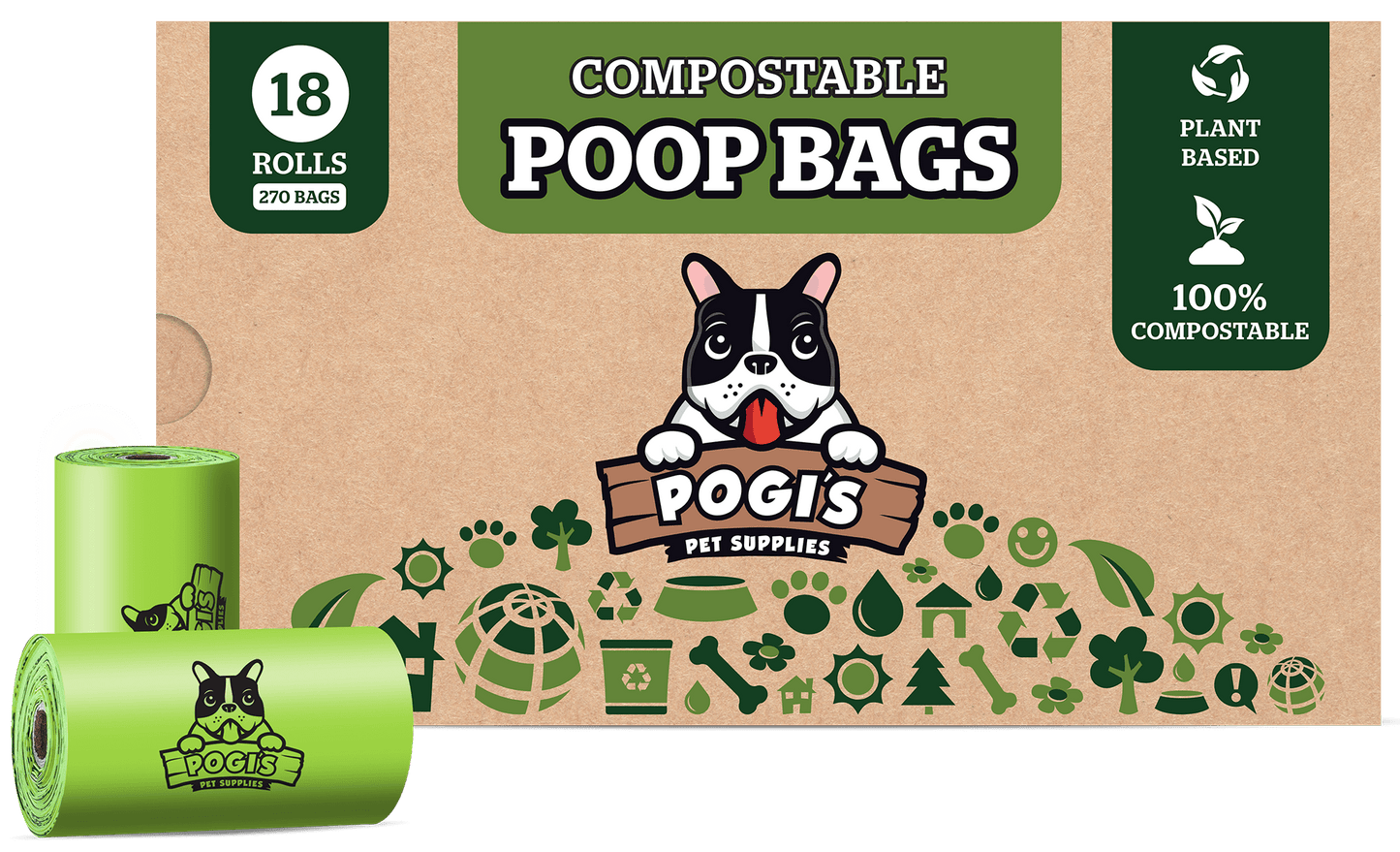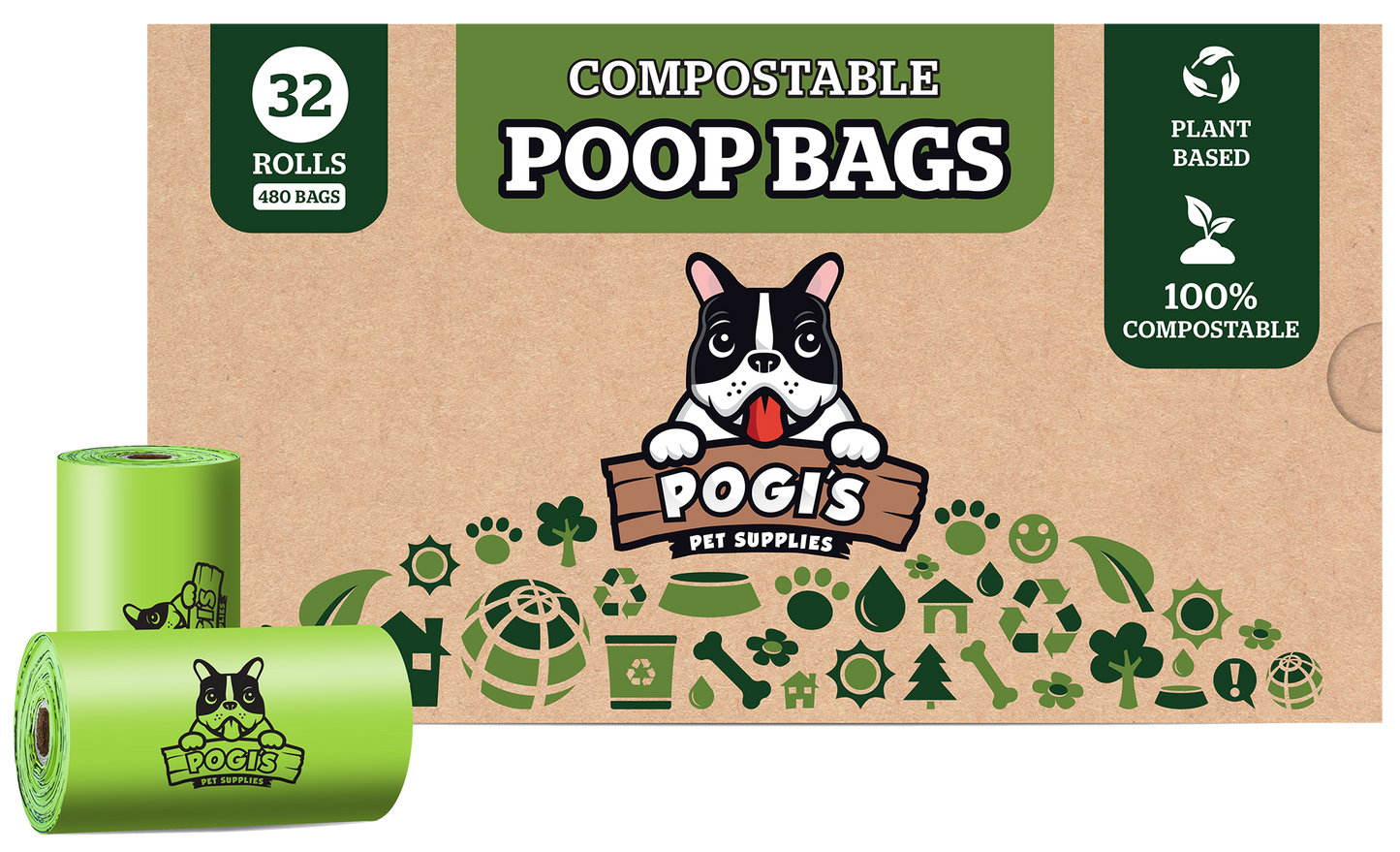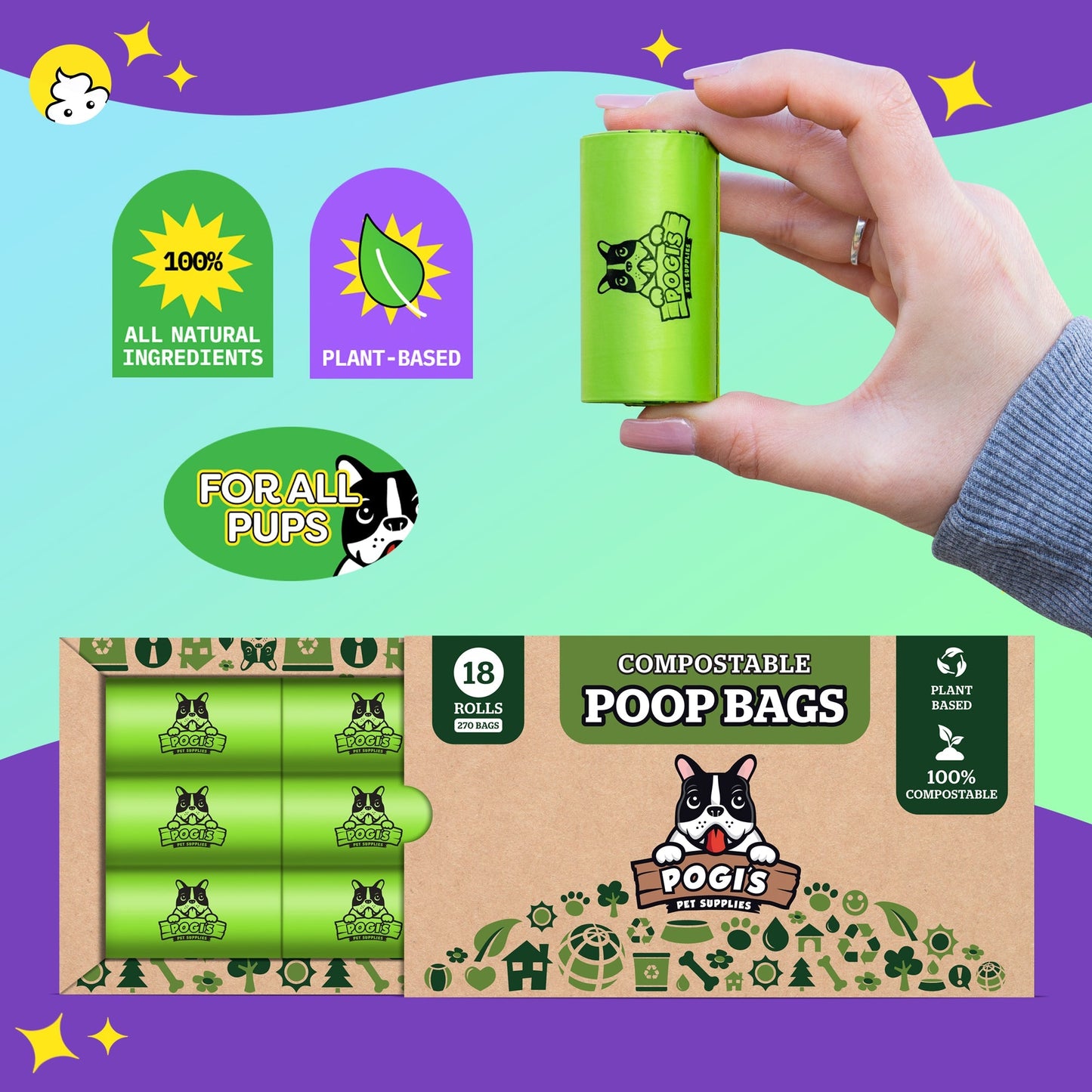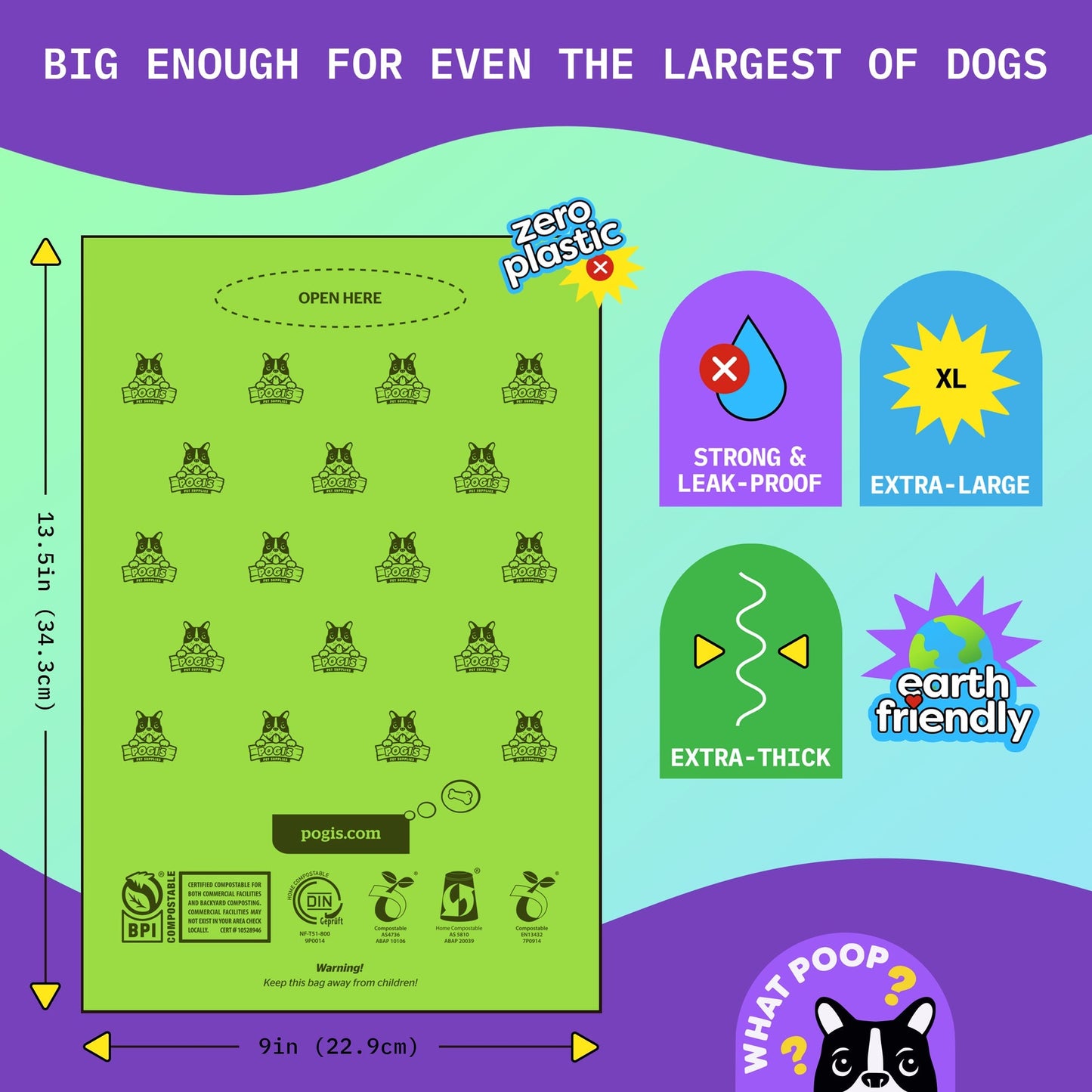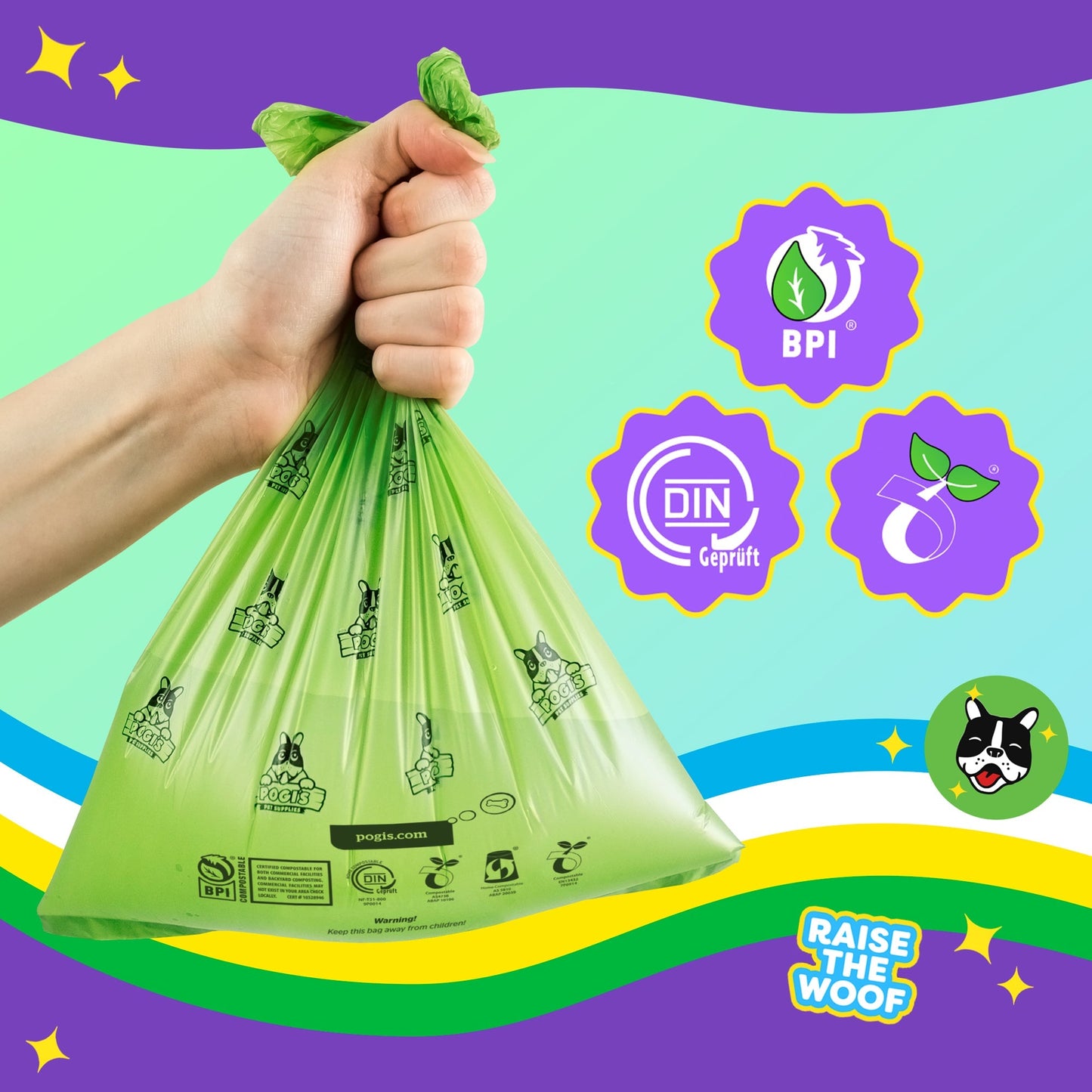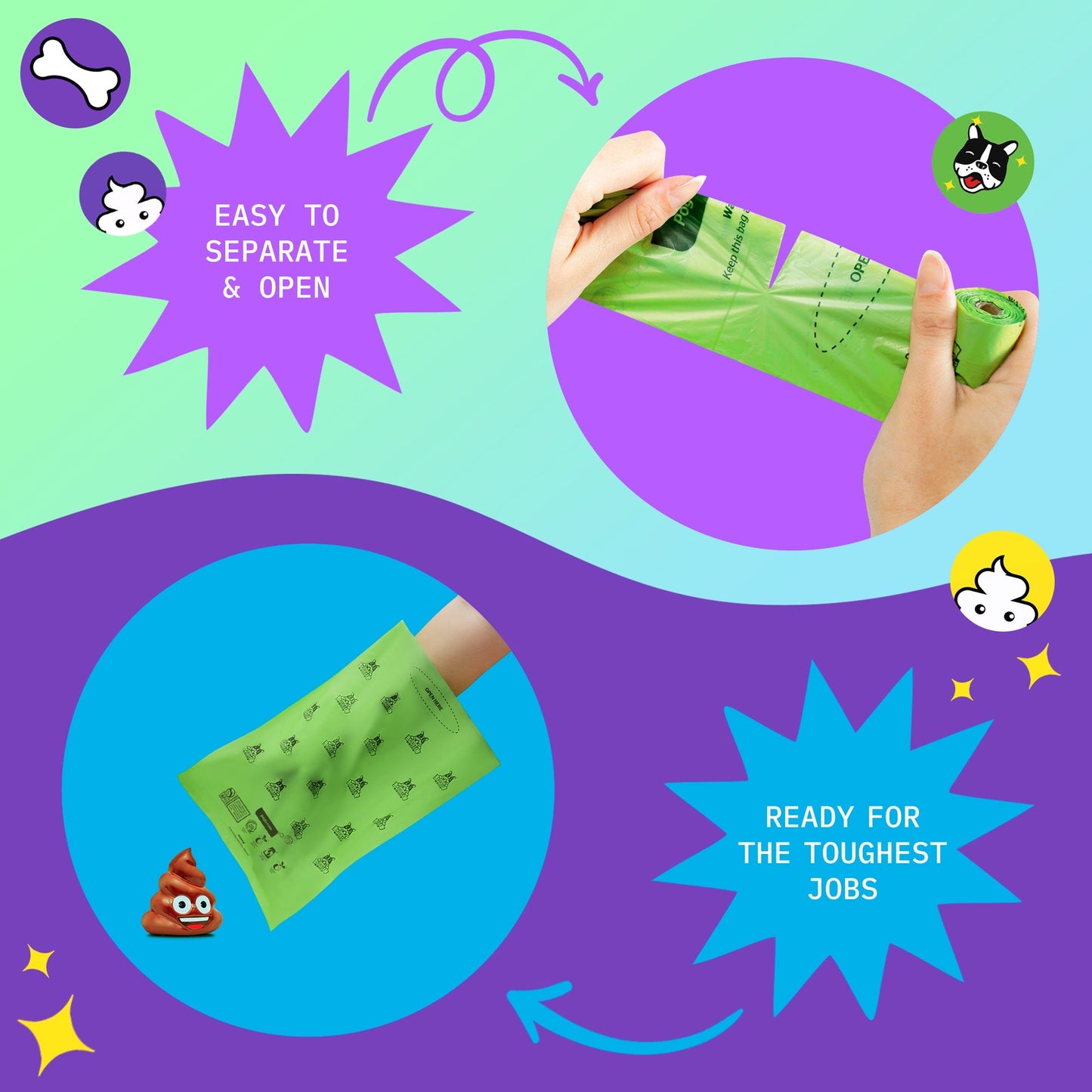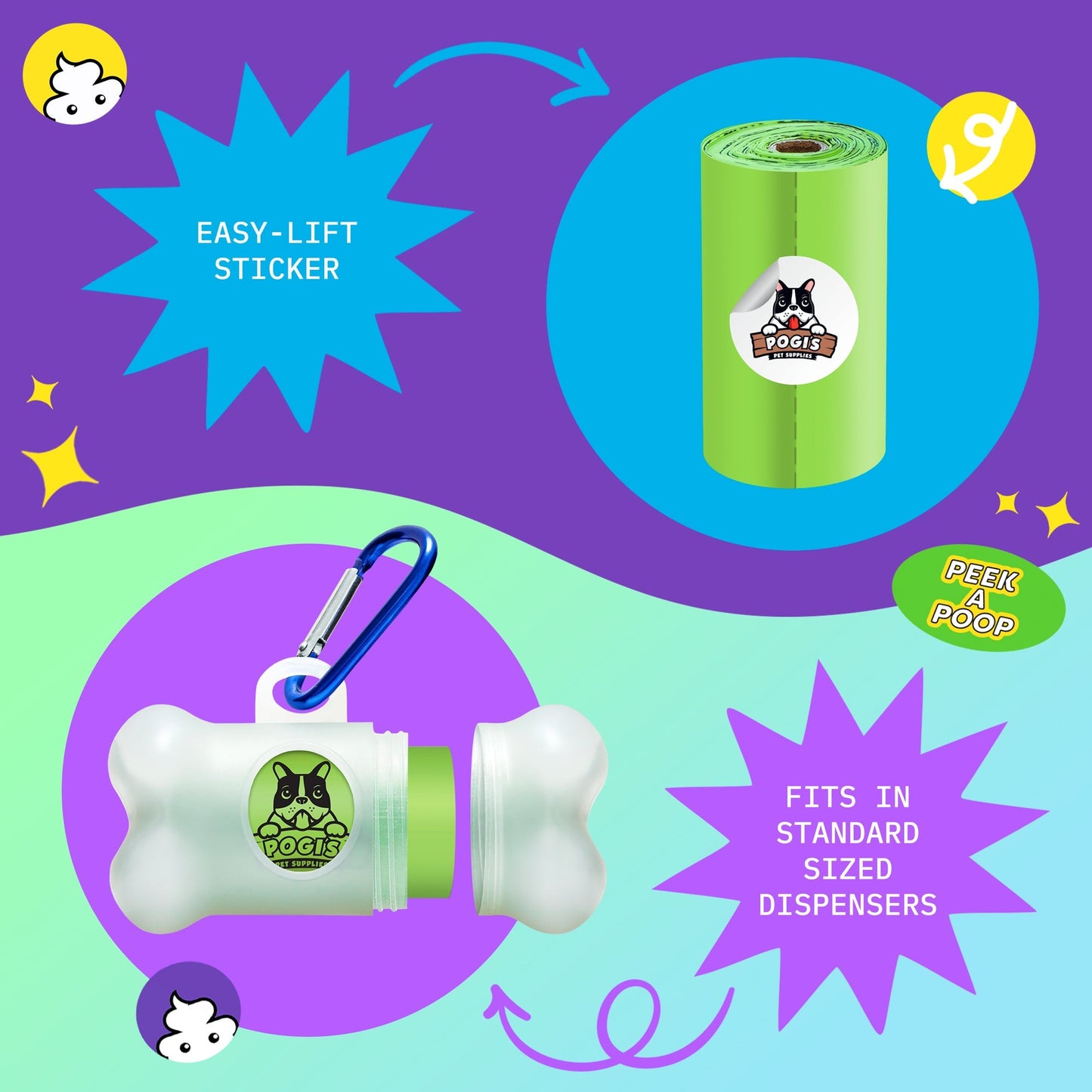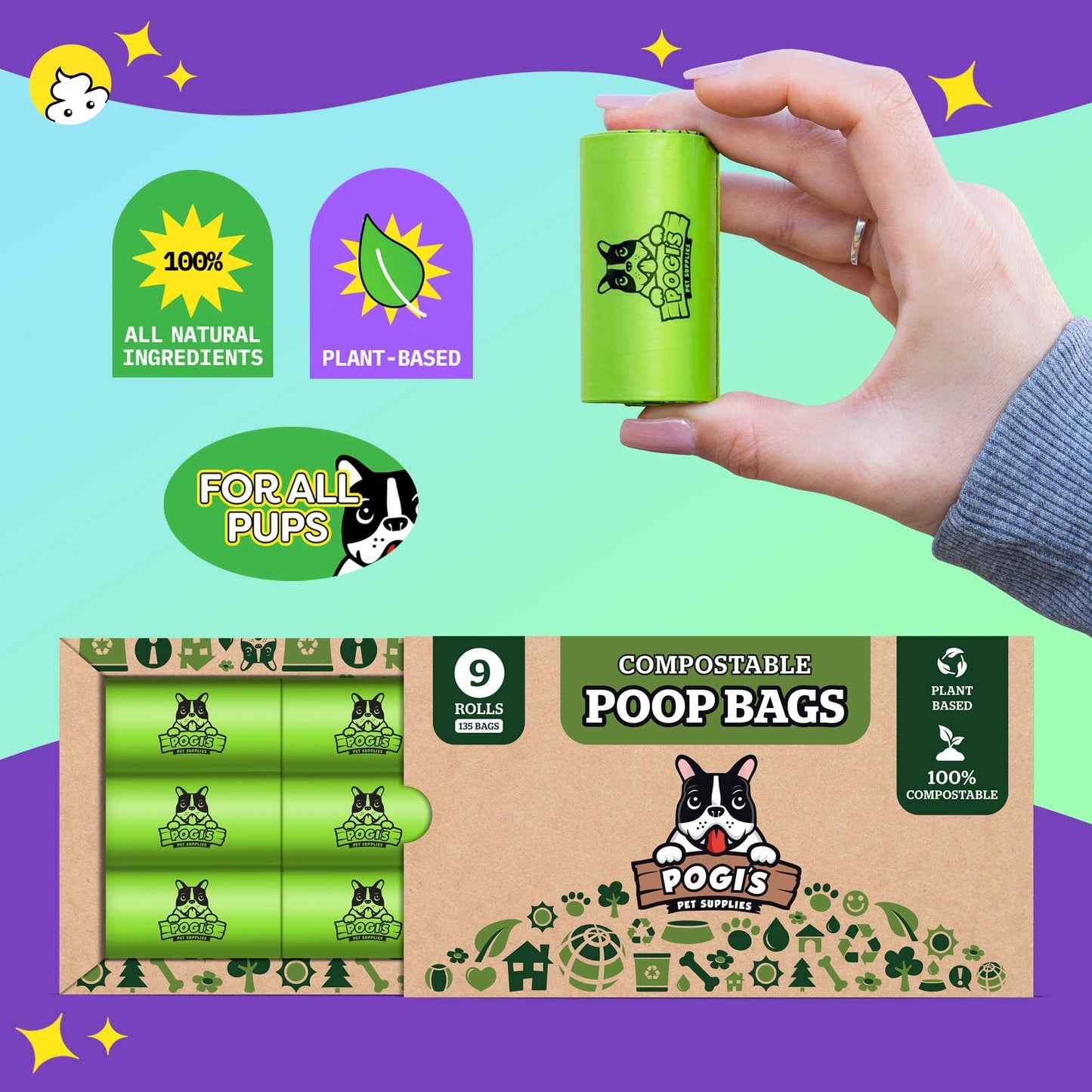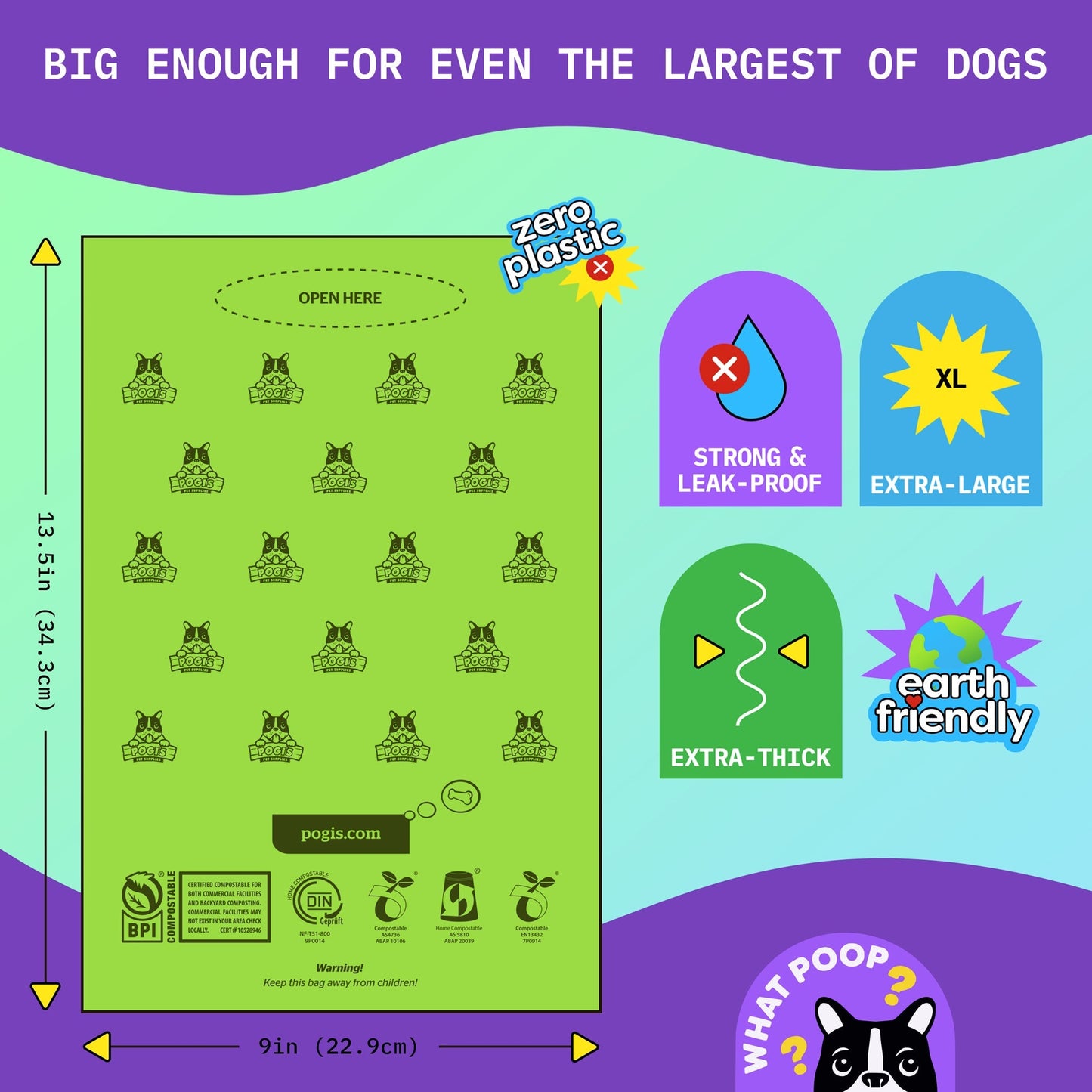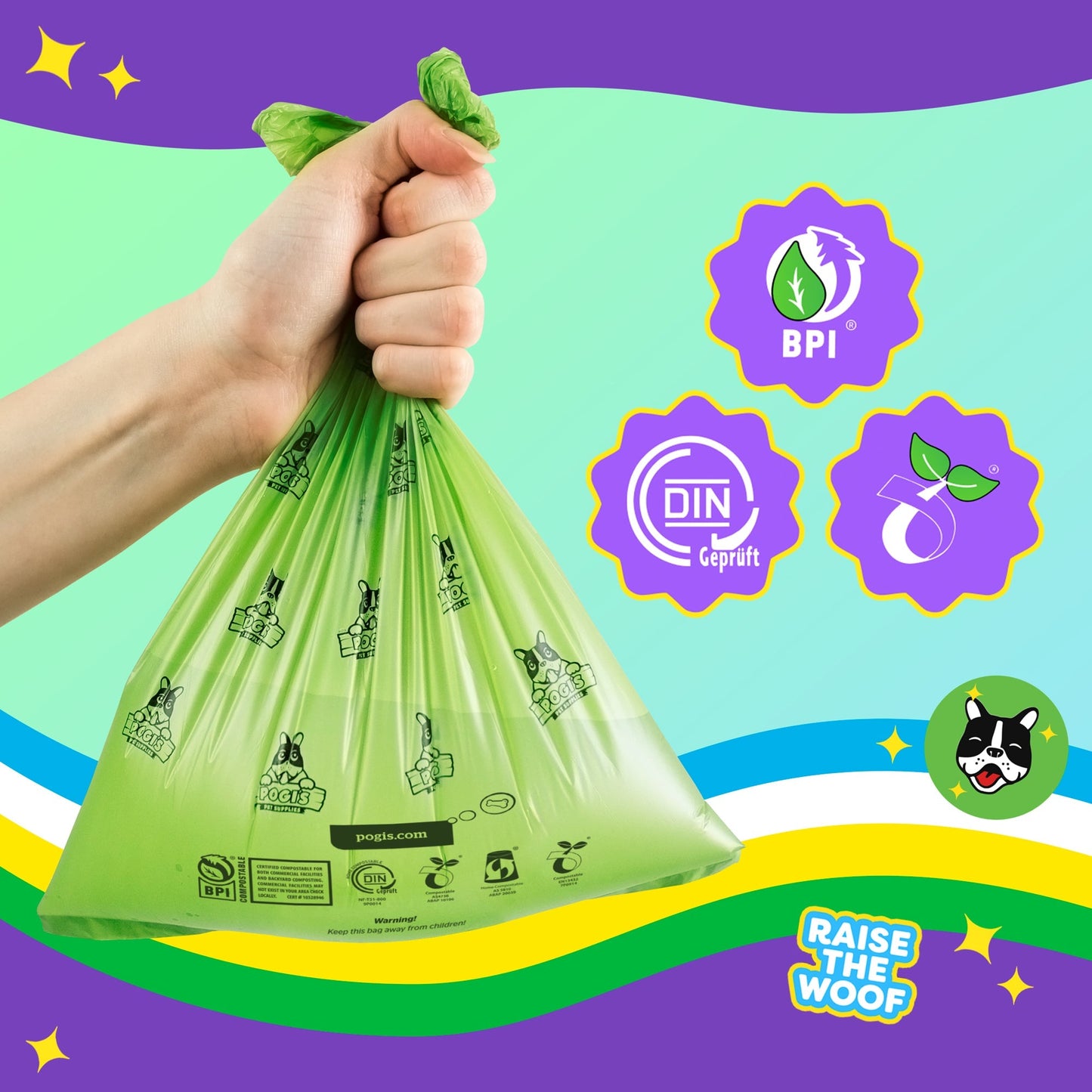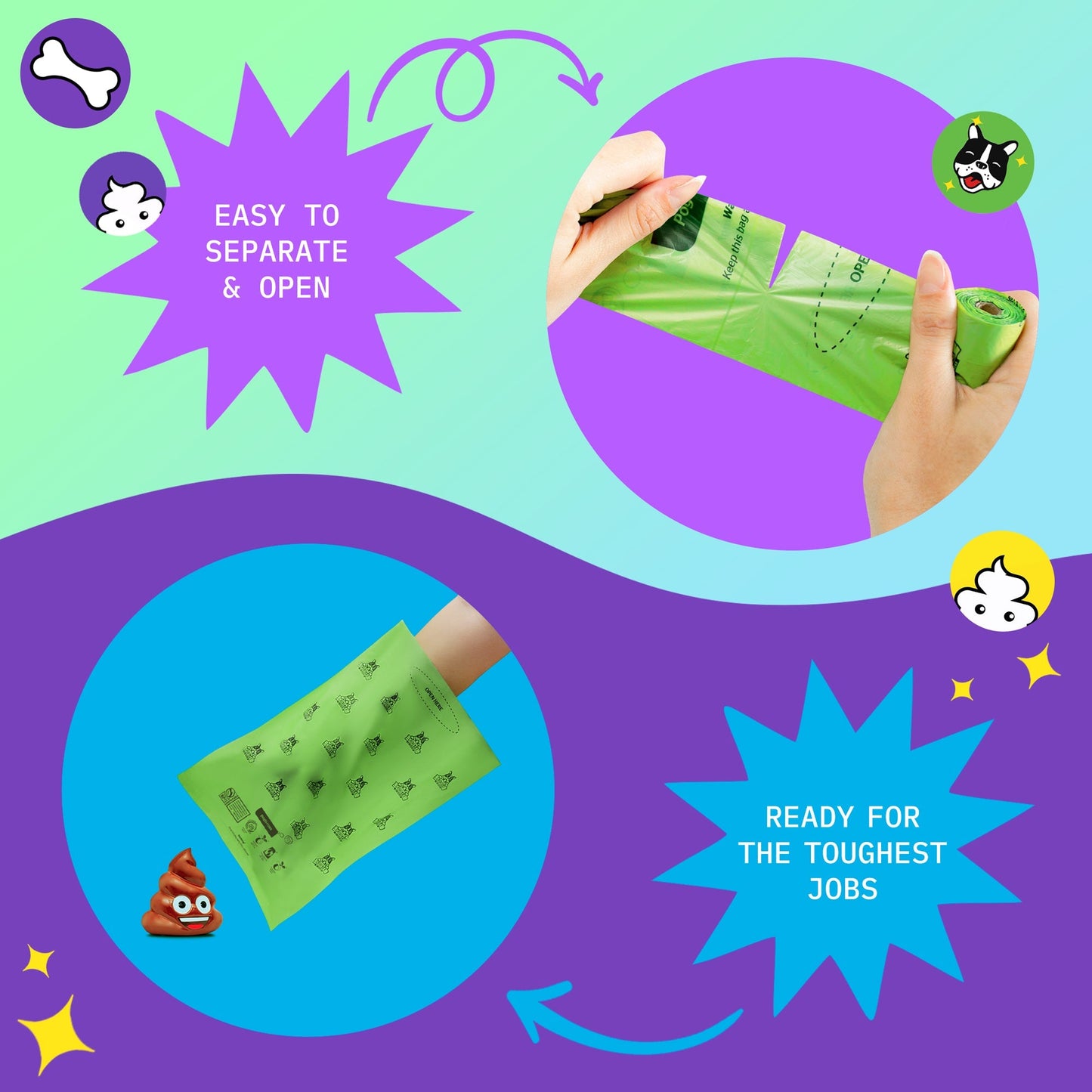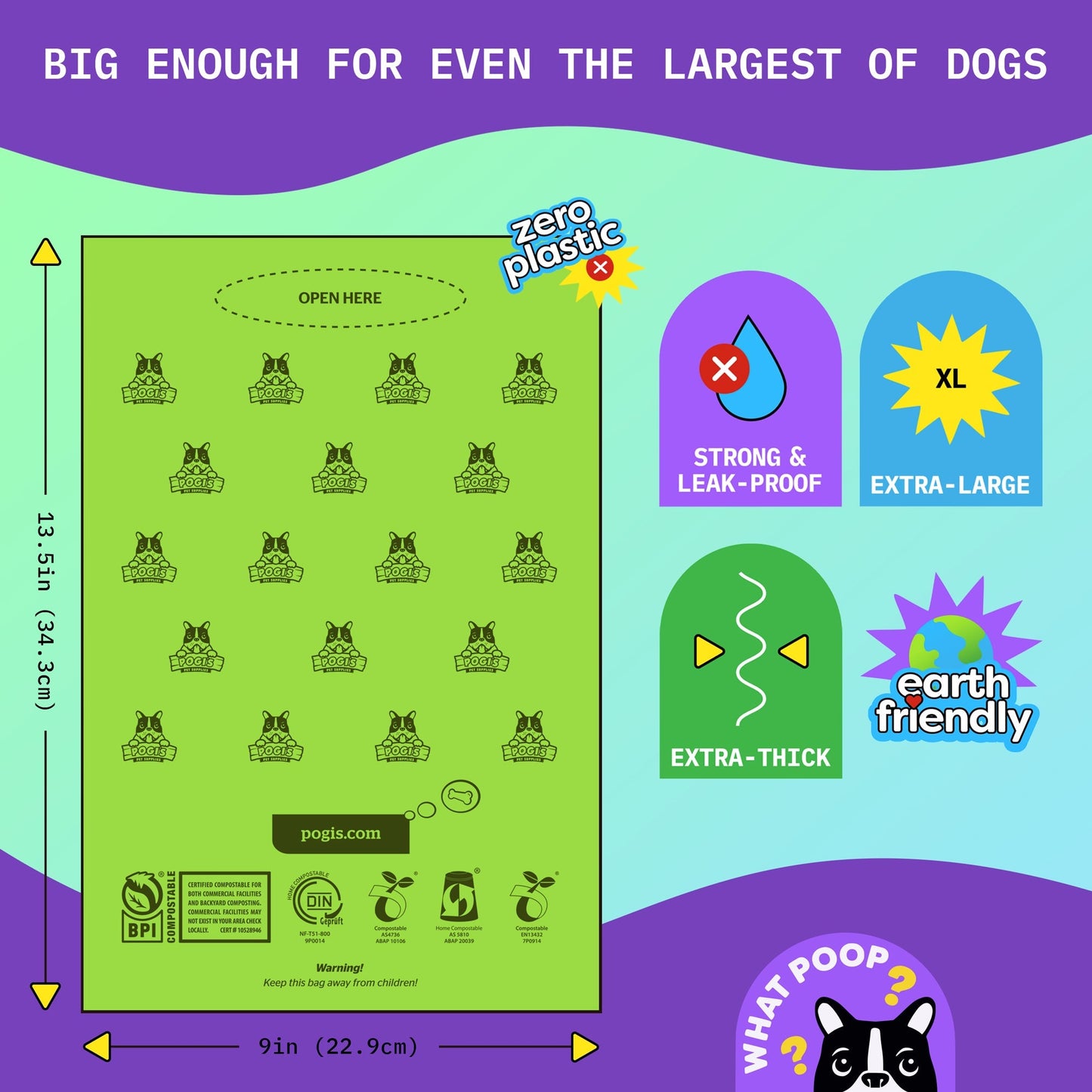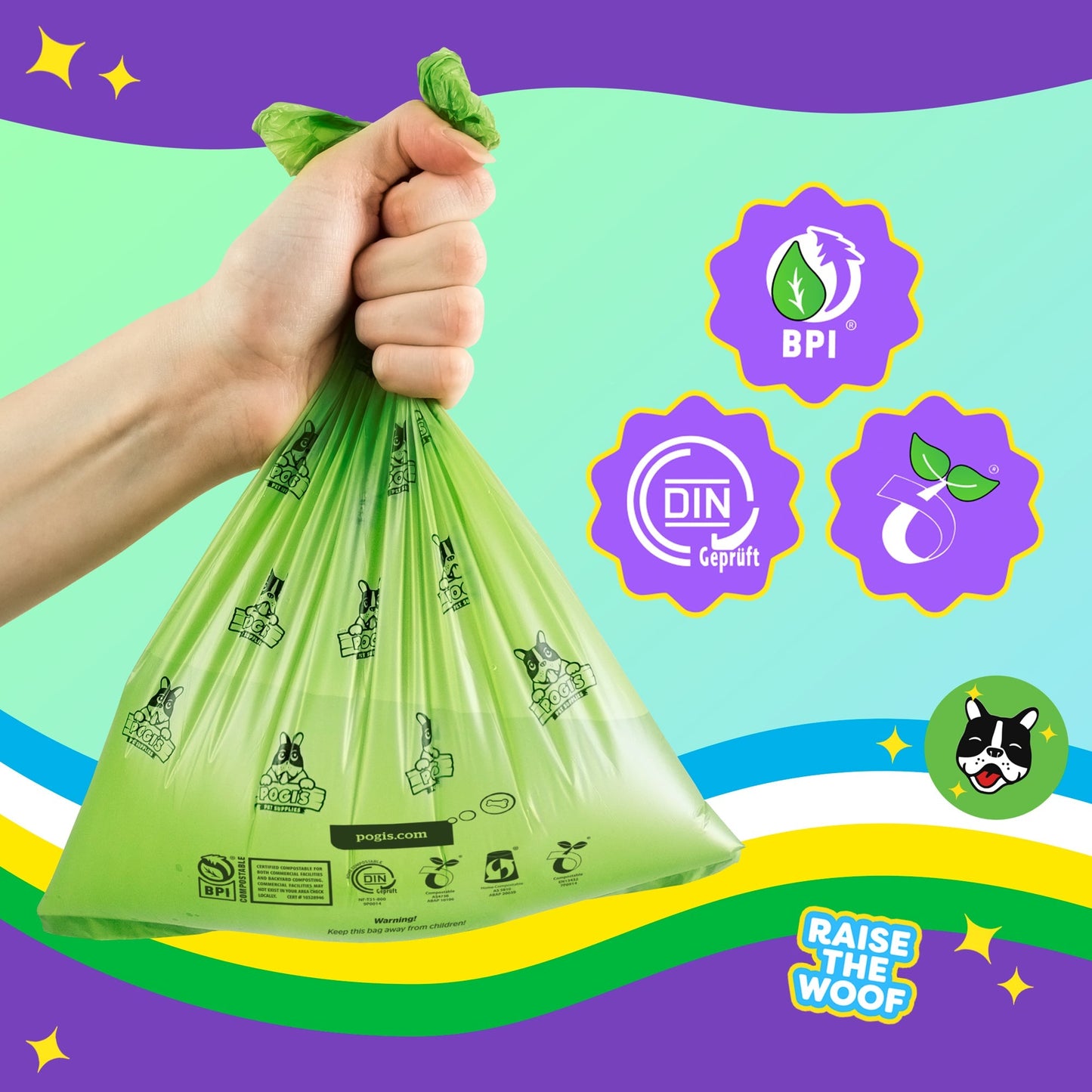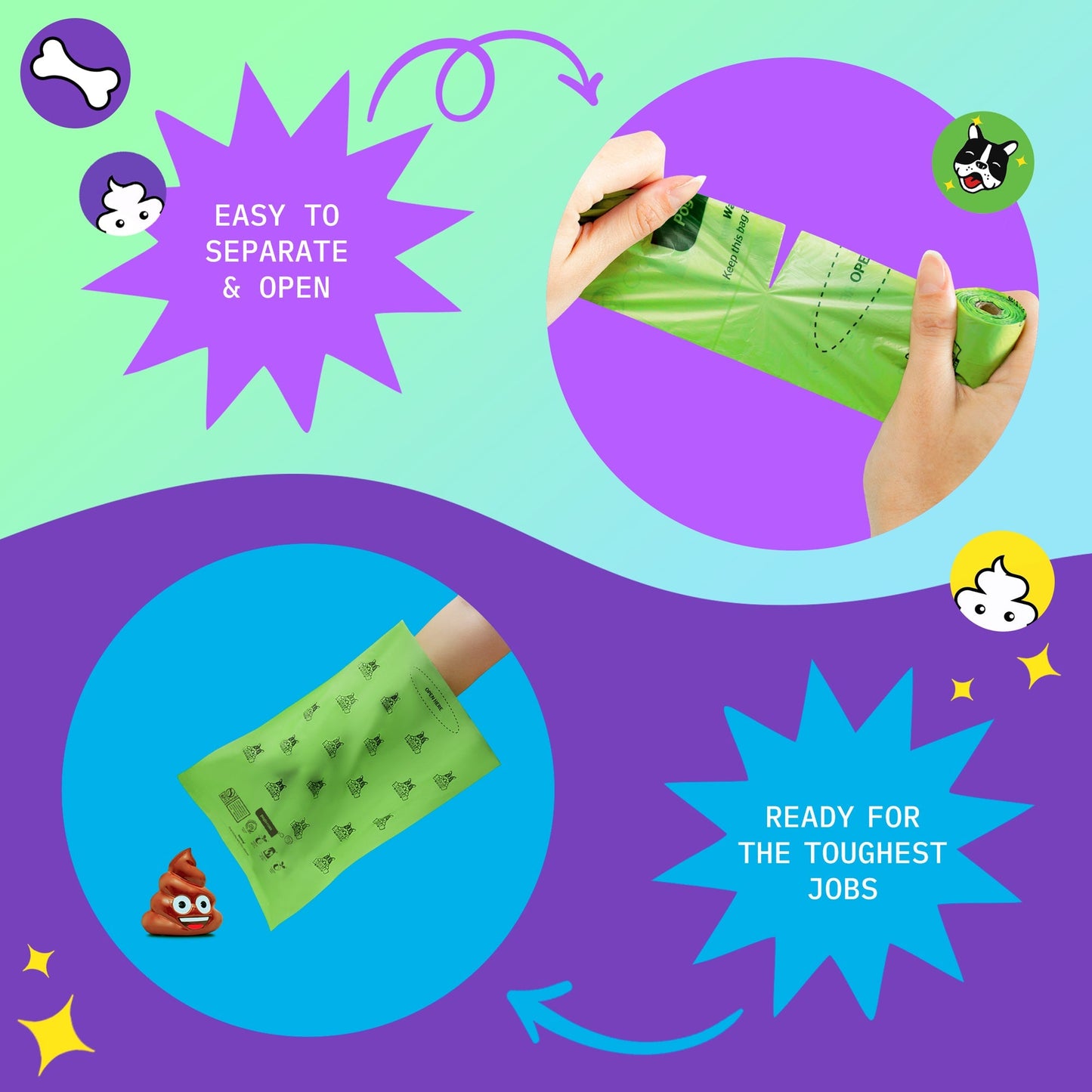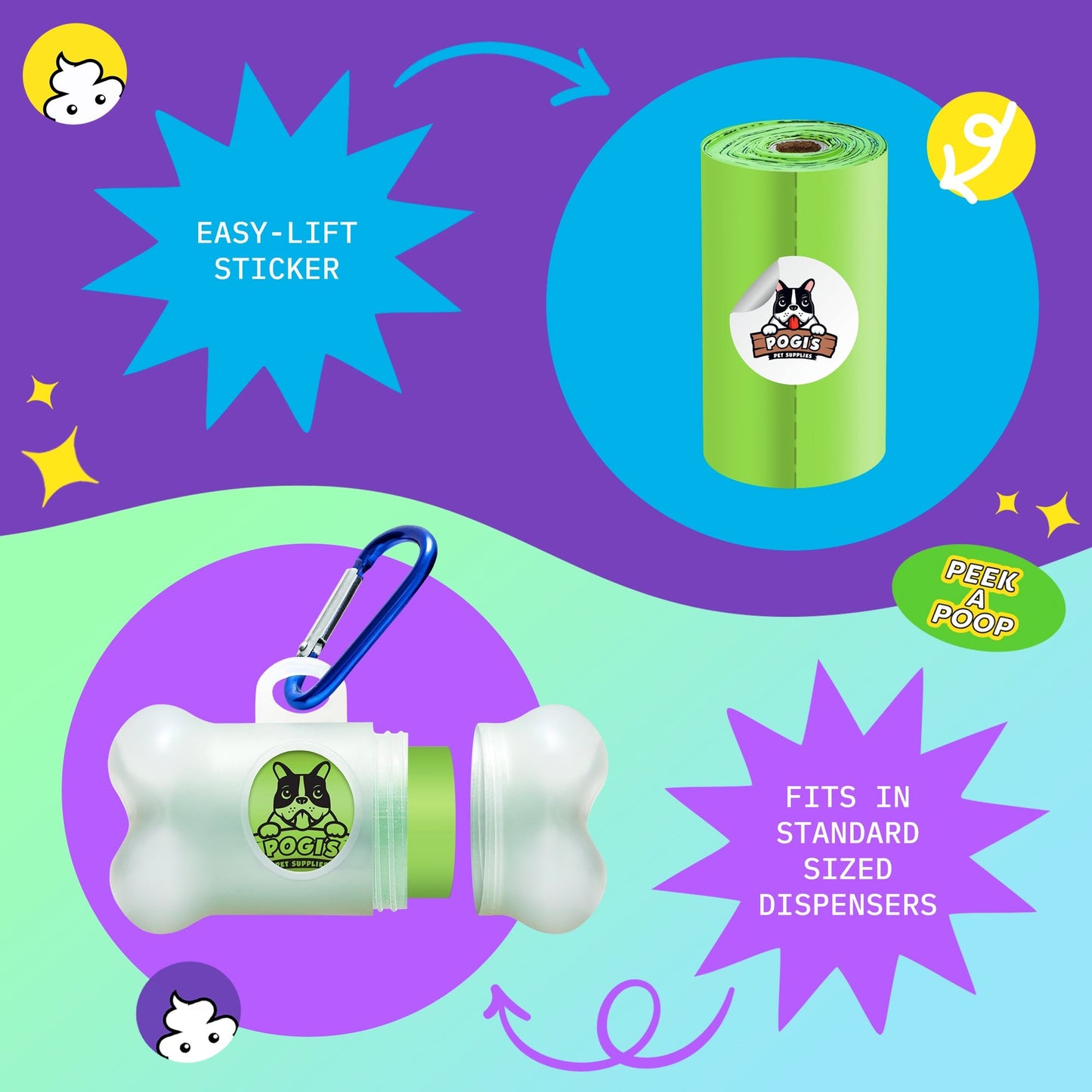 how the magic happens:
Our poop bags are plant-based, contain zero plastic, and are ASTM D6400 certified 😍.
Pogi's Compostable rolls fit perfectly in Pogi's Poop Bag Dispenser. Or, if you already have your own, our rolls are made to fit all standard sized dispensers.
Compostable, durable, and easy to carry
Fast delivery, perfect size, love the fact that they are compostable and alot of bags for a great price! Definitely recommend. Works well for a 76lb dog.
Great Bags!
I love these poop bags. I have 7 puppies of my own and I'm a dog walker so you could only imagine how many poops I have to pick up a day. In my opinion they're bigger than others I've bought before. The material is extremely smooth and they're super easy to open up. I also love that they have an "open here" mark to show which side is the one to open from. The puppy design is a plus 1 from me!
The Best Poop Bags!
We've been using Pogi poop bags on walks as well as picking up poop in the yard and what a difference they make compared to the random one's we got on Amazon. These bags are easy to open and are strong, never tearing at the bottom like sometimes happens with the random ones. Because they're plant based and contain zero plastic, we have complete peace of mind with these and will never go back to the others.
Try Pogi!
I have been very pleased with the bags. The subscription program is very easy to use and change as needed.
Love these!
These bags are sturdy and fairly easy to open up. I appreciate the fact that these are also plant-based, so when these break down, no microplastics are left behind, like other brands that are compostable.
Still loving them!
Just wanted to write an updated review –– I've been using these for months and love them so much that it made my day to find out that I can still easily buy them after a move to Europe. I've tried other brands of compostable dog waste bags and truly nothing compares in terms of size, sturdiness, and softness. I am obsessed!
The only bags I'll ever use
I only use plant-based and compostable poop bags because I hate the thought of sealing up poop in a plastic bag that never goes away or if/when it does it turns into micro-plastics.
Pogi bags are far superior to the others we've tried. I've never had an issue with the bags tearing during use and they have no odor. I've purchased these bags both on a smaller rolls you can put in your pocket and also on the larger roll that you just tear off as needed. Both were great but I find the smaller rolls are more convenient. My only complaint would is that I wish the ones I buy came in a smaller size since my dogs are small and I feel like I'm wasting a lot with the larger bags.
Love the bags
The bags are great! I love how earth friendly they are. The ONE thing I wish they would do is get rid of the pogis sticker that comes with each box. As a customer for a few years, I do not need more than one sticker and they can't be recycled. For a plant based company, The sticker doesn't make sense. I know it's a small thing and has nothing to do with the bags, but it would be nice if the sticker was not included. But overall the bags are great! Order on their actual website for a cheaper price than Amazon!!
Michael
I Love These Bags I Have A Cat And I Use Them For Scooping The Litter Box And They Are Perfect!!
Sturdy and Sustainable!
These bags are soft, sturdy, and huge. They're so much better than the bags I was using previously, and I love that these are both soft and strong. They seem to be much stronger than bags I have used before because they are so great for picking up my ~50-pound dog's (frankly nasty) poops without ripping, leaking, or needing two bags. The shipping was quick, too, and I love that these are better for the planet than traditional bags.